CASPIAN OIL KILLING THE BLACK SEA COAST
O.Berlova
Socio-ecological Union CCI Press-service
WITNESSING THE DESTRUCTION
I am sitting in the car trying to clean the dust off the lens of my camera.
It seems to be everywhere - just like sand in the desert. The place we've been filming does look like some combination of desert and battlefield. The casualties - once magnificent ancient junipers and pistachios - are piled up and small tornadoes of dust are sweeping over the naked land. The thin layer of soil was torn off together with the trees that were keeping it, and now there is only yellow clay left, reminding of the dead moon surface. This is a CPC logging and construction site, where vast area of old-growth juniper forests was cleared off. This is how the first CPC construction stage cheerfully reported by Chevron as "completed" looks like.
ABOUT THE CPC PROJECT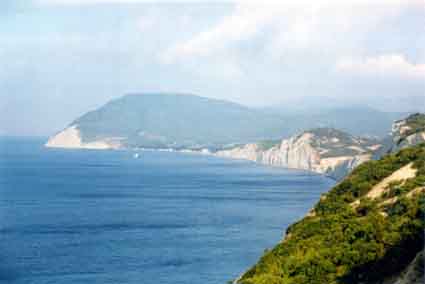 Primary pipeline's capacity is planned to be 28 mln tons crude oil per year, with planned capacity up to 67 mln tons per year by 2014. The total pipeline length is 1500 km; it starts at the Tengiz oil deposit (Kazakhstan), and is planned to end near Yuzhnaya Ozereika settlement - between Novorssiisk and Anapa on the Black Sea coast. On the coast the pipe will split into three, each carrying simultaneously four thousand tons of oil across the seabottom to the floating terminal - 5 km away from coast in the open sea.
The Governments of Russian Federation, Kazakhstan and Oman Sultanate found the Caspian Pipeline Consortium (CPC) in 1992. In CPC shares are the following: Russia - 24%, Kazakhastan - 19%, Oman - 7%, Chevron (USA) - 15%, LUKoil (Russia) 12,5%, Mobil (USA) - 7,5%, Rosneft/Shell (Russia -the Netherlands)- 7,5%, Agip (Italy) - 2%, British Gas (Great Britain) - 2%, Kazakhoil (Kazakhstan) - 1,75%, Orix (USA) - 1,75%.
The project scheme chosen for realisation is the most dangerous one. Heavy storms are quite often in the region, and even ships protected by Cemess bay in Novorossisk get often damaged and even sunk, while along the coastline there is nothing to stop smashing waves. Weather conditions are especially severe in winter, when the strongest northern wind (called "bara" by the locals) is blowing. It forms something like tornado in the water, and this whirlpool sinks everything that gets in it. The whole area is situated over the tectonic breaks, and the earthquakes are highly possible - regions' seismic activity index is 9.
The crude oil coming from Tengiz deposit is extremely dangerous, containing high level of sulfur hydrogen, a very toxic and explosive gas.
Is there any real need for a new terminal in open sea susceptible to dangerous environmental conditions?
Novorossiisk is the largest oil-port in Russia with developed facilities and infrastructure. This port is situated in the Cemess bay, more protected from natural disasters and where oilspills are easier to localize and clean up.
However, CPC does not consider an option of using the existing facilities preferring to construct new terminal on another place totally under control of CPC members instead of state - controlled port in Novorossiisk. The other reason is that the current project is less expensive for CPC - the pipe going to Yuzhnaya Ozereika is shorter than the pipe to Novorosiisk. The CPC is simply saving money - on behalf of environment and safety.
It seems that project safety is not major CPC concern. The CPC has insured their risks - in case of any pipeline damage the Consortium will get its money back. But no environmental risks are insured - this means that those who will really suffer from any possible breakdown will receive nothing in case of accidental breakdown.
The safety provisions of the project are highly doubtful. Despite the obvious danger of first serious storm or earthquake breaking the pipe and causing enormous oilspill, the project in its EIA part does not even have the assessment of maximally possible breakdown. The environmental impact part of the project looks more like commercial advertising for general public than serious study and assessment - only general claims on pipeline safety system.
The CPC project does not provide for any waste screening devices - all run-off waters, after being kept for a while in fire tank are to be discharged into the sea.
The tankers will also will dicharge their wash and ballast waters into the sea.
The reservoir park sitauted 260 meters above the sea level is placed over the tectonic breakes, where seismic and land move activities are highly possible. Similar tectonic breakes are found at the sea bottom where the floating terminal is to be located.
WHY SECRET?
Obviously CPC folks were unhappy with someone videotaping and photographing the site.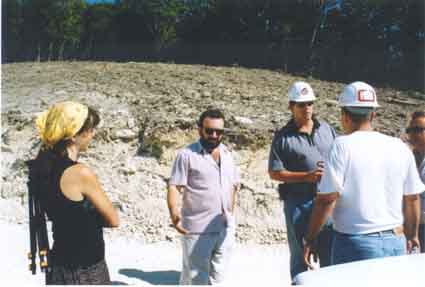 People of the region do not welcome the project, and the sight of a devastated land wildely publicized would not add popularity to the project. Appearance of our white Niva - Russian off-roader at the site was noticed immediately and soon security crew and a CPC officer appeared. We knew that outsiders were not welcomed there, and we did not expect a friendly reception. Luckily, our press badges and our guide's - local community leader Yanis Karakezidi - firm position cooled security off a bit.
PEOPLE
People of Novorossiisk (at least 90%) and Anapa are opposed the project. From their own sad experience they have learned that no oil project is safe enough to prevent spills that kill land and sea they live and depend on. People still remember the breakdown at the Novorossiisk terminal of 1997 when at least 800 tons of oil spilled into the sea. The clean up took several months; beaches of Anapa and Gelendgic resorts were heavily polluted. The word "luckily" is hardly relevant here, but the oil got into Cemess bay, where it was easier to block and gather. The consequences would be much more catastrophic if the spill would have happened in the open sea, just like in a place where the new terminal is planned.
No CPC representatives nor authorities were going to take in account the local people opinion, despite the fact that realization of the project will alter the fate of the area, since port capacity is twice as much as capacity of currently operating oil-port at Novorossiisk (and the Novorossiisk operating oil terminal is largest in Russia). Though, according to Russian legislation, public opinion is to be taken in account while designing such project. The Law on Environmental Impact Assessment requires referendum in cases of construction of large objects that may seriously affect the environment.
None of the players were excited to have local people expressing their opinion - the result of the referendum was too obvious. The CPC representative when asked to pay for referendum organization from CPC funds answered: "It is impossible for us to pay for the referendum - it is just the same as if we would pay for our own assassination."
The people struggle for referendum lasts for two years by now. It is lead by Yanis Karakezidi, Yuzhnaya Ozereika settlement community leader. Talented painter, poet, jazz musician and composer, he was elected 12 years ago as a community government chair person. Yuzhnaya Ozereika became famous as a prospering local community. Together with their leader local people did what in Soviet times they would not even dreamed of. Today everyone in the settlement has a telephone, a good piece of agricultural land, a school was open and roads paved. Simultaneously settlement started solving environmental problems.
PICTURE VINOGRAD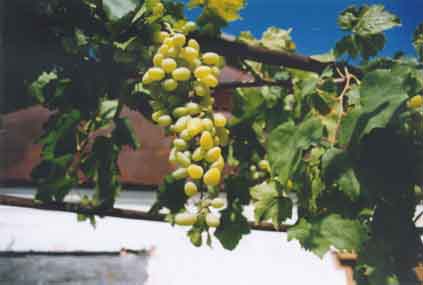 "People here live of what they produce on their land, and they sustain not only themselves - they have plenty to offer those who come here for vacations. This is a resort area, and this gives us lots of opportunities to sustain our lives and preserve environment", says Yanis. - "We have worked out a plan for settlement development complying with the environment. One of the most prospective parts of it - and not just for our settlement but for the whole coast is the marine cultures (seafood) growing. Oysters and muscles live here in their natural way, but we can cultivate them - this is more environmentally sound." While speaking, he drove us throught the village and to the construction site. "The CPC is something that will ruin all our life. We are people selling what we have grown and made - vegetable, fruit, diary products, wine and we love this land and sea. No money can replace it. And our struggle against CPC is not "not in my backyard". People in Novorossiisk and Anapa support us strongly - they understand that this very project scheme realization is dangerous for the whole coast, not just for Yyuzhnaya Ozereika".
GET OFF THE CPC LAND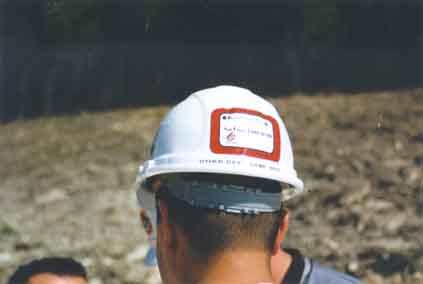 Apparently security people and project officer Jeff Sortman (he refused to indicate specific company division he was from) were not aware of Russian laws - they accused us of trespassing a private property. The explanation that in Russia there is no private property for land, that CPC project affects a vast area and people and that local people and journalists have full right to see the developments enraged him. Finally he shouted at us that he was "tired of our bullshit" and that we should get off the site.
It seems that "shit" is something favorite with the company. On the safety helmets of its employees there is kind of a slogan -"Caspian Pipline Consortium - No time wasted in 99" and lower - "Other day - same shit". Describes a great deal of what the folks have done to the place. They really did not waste time in making the place a mess - works started only in April.
Well, now, with all our filming done we did not mind getting out of the site - it was in upper 30 ies Celsius all day, the yellow clay dust made a thick layer on our car, equipment and bodies. It was also in our eyes, noses and mouths. The devastated landscape was depressing. Unfortunately, it was not all that easy - while the discussion about legality issues I saw one of the securities stepping aside and talking to some chief through portable two way radio- what to do with us. There was an order to detain us at the exit from the site.
I remember Valery Timoschenko, an award-winning filmmaker from Novorossiisk and one of the anti-CPC movement leaders saying: "The CPC is attempting to create on our land some kind of state of their own, out of any public control".
His warning has been borne out by recent developments. Recently several citizens from local "green" NGOs were stopped by an intimidating CPC guard, while attempting to walk along the coastline. "This is the CPC land," he said.
A couple of days before that, city administrator, Vladimir Sheiko said the same words: "This is the CPC land..."
"We thought this is Russia," replied one of the citizens.
ILL-LEGALITY
But is the devastated area really a CPC land? Do they really have legal rights to act like they do? The answer is "no". And this answer is known also to the authorities that are so eagerly protecting corporate interests instead of protecting public and state interests, as they are obliged to do. First of all, there is no private ownership for land in Russia.
According to Russian law, no activities might be taken before the project is approved following state review. The CPC representatives claim that the project has successfully passed the review. The truth is quite different. But let us quote the document:
"...Experts agree that the reviewed CPC oil pipeline system is a large, technically complex and potentially harmful object, which objectively will be a constant source of pollution not only in case of breakdown but also during its routine operation. (page 16)...
"In case of breakdown oil spills will lead to pollution, and are dangerous to Anapa beaches. The only way to preserve the Anapa resort is to prevent oil discharges and [to implement a] 100% safe system to prevent oil discharges into the sea (page 32)".
"Experts agree that in the technical and economical justification of the project, the potential harm to the resort system and to the economy (winery, fishery, forestry) in case of accidental oil spills has not been assessed."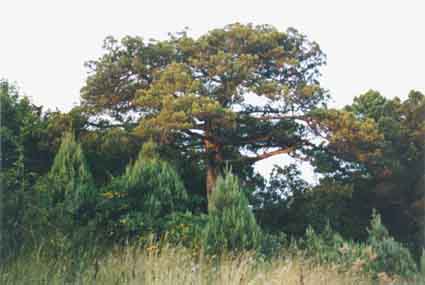 This is no surprise, for to assess the harm in precise and definite numbers one has to pay in precise and definite money. That is what review conclusion says: "...It is necessary to provide for insurance guarantees of compensation of harm caused by the impacts of the CPC, and [the consequences] of accidents to population health, environment and property." As we said above, the CPC insured only their own losses.
The review was not positive. On contrary, it issued a set of recommendations, none which were considered and implemented.
The referendum on the project, as required by Law, was not held.
Loggings we saw were all done illegally. All forests there are the first group forests - which means that these forests are especially valuable and loggings are prohibited there. In order to do the loggings RF Government have tranferred 303,74 hectares of the forests into so called "non forest area" - for non forestry purpose use. But any such transfer should undergo the state environmental asessment. It did not happen here.
Other laws violated by CPC
The RF constitution art. 42 - citizen rights for safe environment
The Law on "Natural medical resources, medical and health improving areas and resorts" - Yuzhnaya Ozereika has a mineral water deposit.
The RF Land code - any activities that are not aimed on environement protection are prohibited on the lands of protected, medical and health restoring areas
The RF Water code - the article on the specially protected water areas. State Nature Reserve Utrish includes 25 square km of unique marine area.
TRAPPED
So now I have been sitting in the car at the exit from the site for 40 minutes. The car was stopped on our way out by the security carrying an automatic gun. We were trapped: massive metal chain across the road did not leave any chance for breakthrough even on the off-roader.
It gets open only for huge trucks carrying away juniper logs.
Centuries old trees will be used as a fuel wood. (The funny and absurd part of it is that though junipers are classified as fuelwood, it is prohibited to export juniper timber abroad. Local people use it for making fine craft pieces). I am taking a couple of shots of trucks and security. Ana also continues videotaping, and guards are getting nervous. Then I can hear them receiving an order from their mysterious chief to "retrieve them (that means us) to our headquarters".
I am not happy about the way it goes but at least we have hidden our films and videotape in the car. So this way even if we get attacked and searched the results of our work would be saved and people will see what we have seen. That cheers me up a little bit. But I kind of feel sad about our cameras if they get damaged. I remembered that on July 2 during the protest demonstration held by the "Rainbow Guerrilla" all films from photocameras were taken out, and videocamera of one of the journalists was broken by militia security men.
Of course we refused from being "retrieved" to some unknown headquarters. The whole case starting from our detention and attempts to "retrieve" were illegal, and guards knew it. Only militia (Russian police) had right to detain us if we would have violated something, but that was not the case. Yanis' clear and impressive explanation of that, as well as listing of legal consequences of their actions made security hesitant. Bluffing about the fact that we are already expected at some meeting and telling the truth that many people knew where we are and are expecting note from us and that if something happens to us it will get known really soon was almost a final drop. The last and successful argument for securities was that their chiefs in CPC would abandon them and put all the blame on security. (It turned to be true: later, while meeting CPC chief officer Dolgov, we were told that our detention was all security initiative and fault).
JOBS, LIES AND RESORTS
Security actions are understandable - they didn't want to loose their job. These folks were among the small number of those who got the job from CPC. To lure authorities and people into the project CPC has promised four thousand new jobs, 80% of which are supposed to be occupied by the people of Russia and Kazakhstan. But in reality already hundreds of foreign workers are moving currently to Novorossisk, leaving no jobs for locals. Today CPC gave around 300 jobs for Russians, majorly temporary logging or security positions. But has anyone asked how many jobs it will kill?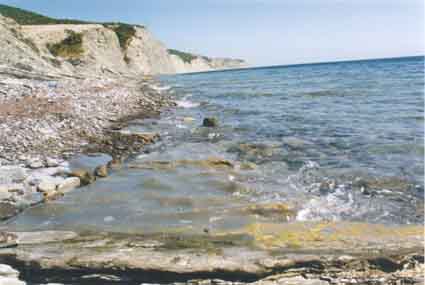 According to raw estimations, only Anapa - the unique children resort will loose 140 thousand jobs based on resort and tourism industry. Noone has estimated losses of other resorts near Novorossiisk, Gelendgic, and Kabardinka...
To find out more about the resort prospective we are heading to Anapa - a unique resort 40 km away from Novorossiisk, we are going to meet people in charge of health and environment there.
Anapa is the largest family and children resort in Russia. The city has an ancient history - it is former Greek colony Gorgippia. It has around 200 sanatoriums for families and children. It is considered among the most environmentally safe coasts on the Russian Black Sea. Its unique seawater and air is the best cure for people suffering from different bronchial conditions.
"Noone will replace the loss of our unique sandy beaches and clear seawater. We may build comfortable sanatoriums and offer luxury rooms - but in reality, what people are coming here for is warm Black Sea. Any oilspill is a threat and the mere existence of our resort is highly doubtful if the CPC Pipe will be built according to the present scheme. " - says Sergey Stremousov, director of Kuban sanatorium, the most comfortable one in Anapa. "We all here are trying to be realistic in our demands. We understand that the pipe will be built, the only thing we are asking for is to put the pipe through Sheskharis. In this case the possible oilspill will be easier to localize and clean up."
Alla Shumskaya, director of the Rossiyanka sanatorium told us that the number of people coming to the resort has almost doubled this year. "We can certainly outmatch the CPC in the number of jobs we give. The resorts are developing along the whole coast, but if the pipe comes, all these resort settlements will become dead cities", says she.
I remember children happily jumping in the clear water... We are moving along in the van with our cameras, looking at the cities sanatoriums, houses and parks, and are listening to our guide here, Stanislav Yermolayev, chief environmental officer of Anapa and a former Utrish reserve director:
"You have asked me about the resort prospective in case if all goes as is... The new terminal will process more oil than all Novorossiisk outlets. We are talking about the largest oil terminal in Russia - this what we should be aware of first of all. And it has all features of the oil terminal - spills, leaks, and the ballast waters discharge. One of the major danger is that it will be built out in the open sea - 5 km the 3 pipes will go across the seabed. You know already that each will carry 40 000 tonns of oil SIMULTANEOUSLY! Its a nightmare to think about what happens in case of a really strong storm which is so often here or in case of an earthquake..." We all keep silence for a minute - remembering the disaster that happened in neighboring Turkey a couple of days ago...
"Its all possible here. But even without the disasters, the future of resorts is gloomy. According to the world statistics, spills during this the operation of this type of the terminal are happening ever 9 days. It will take approximately 10 to 15 years to pollute the water to the degree that it will become completely unsuitable for the resorts purposes."
Tengiz oil deposit, for which the pipe is built, will last until 2010 - 2015, according to different estimations. This means that in 15 years people of the region would be left with no money, with polluted sea and coast.
WHERE THE HEART OF THE AREA IS...
Villages and grape groves, backed by the highlands are passing by the car window.
This is Sukko valley - the most famous for its grapes and wines. Local people are selling their produce - grapes, peaches, plums, pears, watermelons on the roadsides. Majority of them a living on what they manage to sell (either produce, services or apartment rent) to people coming to the resorts and tourist attraction areas. We are now approaching the most valuable and unique protected area on the coast - and the most threatened one - Utrish reserve.
Utrish reserve includes 28 square km of unique forested highlands and 25 square km of marine territory.
Clear water and juniper forests are making the unique curing conditions of the area. Utrish and Abrau reserves situated between Novorossisk and Anapa are keeping the ecological balance of the area and preserving marine and terrestrial wildlife. The pipe will lie near the official border of the Utrish and Abrau reserves, and in case the project is carried out the whole area will be affected.
This coastal area has been promoted for inclusion within the planned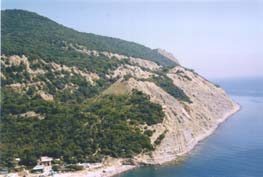 Utrish Biosphere Reserve . Eastern Mediterranean relict juniper and pistachio forests, grow here, and the valuable vineyards which grapes are used in making the world-renowned Abrau-Durso wine have brought fame to the site. The sea waters near the Abrausski Peninsula, harboring numerous rare species of hydrobionts, constitute the clearest and least polluted or disturbed section of the Russian Black Sea Coast.
Work on designing Utrish Biosphere Zapovednik is currently under way. It would incorporate the Utrish zakaznik and Abrausski Zakaznik, which was established to protect the relict oak, pistachio and juniper forest habitats of some rare insects and several rare Mediterranean plant species, most of which exist only in this area and are included in the Red Book of Russia.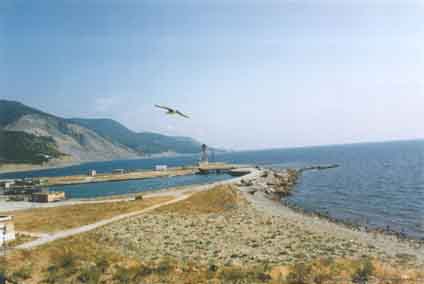 Twenty-nine species of butterfly, several mollusk species, as well as numerous aquatic invertebrates and terrestrial mammals, are also sheltered here. Creation of the Biosphere Zapovednik was defined as urgent by the State Committee on Environmental Protection; plans were expected to be completed in 1997. However, the specific characteristics of the region - the numerous land users, recreational zones and resorts and consequently complicated land relations - are delaying progress. However, the administration of Anapa has established one of the Zapovednik's two planned sites in its region - Utrish zakaznik (special purpose reserve).
"The marine plants and animals will be the first victims if the terminal construction is carried on", says Stanislav Yermolayev. "Even on the construction stage many of the species would be wiped out because of the water mudded up by the construction works. Of course the area already suffers from pollution that reaches it from Novorossisk", Stanislav continues. As a former Utrish director he knows the area better than anyone else does. "Sometimes, when oilspill occurs in Novorossisk, it comes here. Thus, last year we had to clean our aquarium minks from oil. Of course, the spill amounts coming from Novorossiisk are incomparable to the possible from the new terminal. Right now sea still has a capacity of self-cleaning. Important part in this process has phylophora weed and other rare macrophyte weed cleaning the aquatoria. But the CPC project according to present scheme will kill this coast."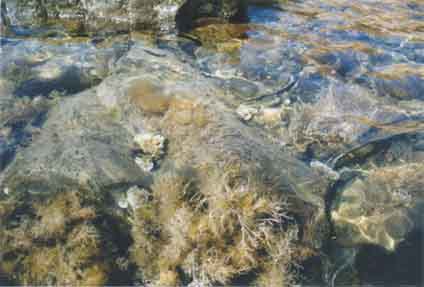 We leave the car and walk across the small peninsula to the old lighthouse, then down to the shore. I am balancing in the water on the wet stones with my camera in order to get a shot of the clear water, seaweed and stones under it. Different fishes are wondering curiously around my feet, the bravest ones trying to nibble on my skin. One of the fishes is in the rainbow colors - they call it dog fish here. When it is threatened it puffs itself up like balloon.
I also see crabs of different sizes grazing on the stones covered with the seaweed. A bit further there is muscle colony. Unfortunately, no Black Sea dolphins - aphalinas - appeared - we could see only those in aquarium, entertaining the public. All of a sudden I feel a strong fish smell and discover that the gulls inhabiting the shore have left a significant amount of their lifecycle traces on the stones I've been leaning on and that I desperately need to use the sea to wash these traces off. Fortunately, the gull-do comes off easily, not like oil. Our team takes a pleasant swim in the warm waves and then we continue on our way.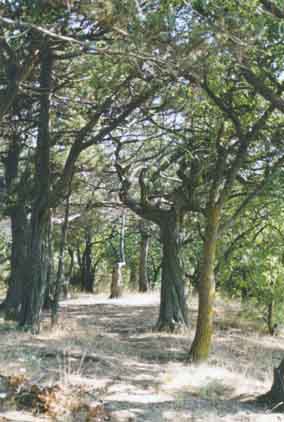 "We are heading to the place we are proud of", says Yermolayev. "It is a unique pistachio and juniper grove. Junipers are creating unique air of the area - spreading the bacteria-killing phytoncides. Living here for several weeks may cure some bronchial diseases completely. Many junipers are 500-600 years old. These trees may live even longer than 1000 years. Unfortunately, many of them in the region, especially closer to Novorossiisk are ill or dying. Probably it's pollution".
I feel sorry that no photos no videotapes can transmit the smell of the juniper forest. And then I remember our trip in Novorossiisk. During that trip I suddenly felt that I couldn't breathe because of an awful odor.
"We are approaching Novorossiisk oil terminal system" - Yanis explained.
Indeed, soon we saw a complicated and twisted multi-pipe construction, running to the port.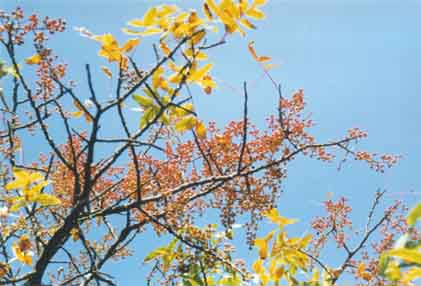 "Houses and apartments cost almost nothing here", - Yanis continues. "Personally I don't want our village, all our resort and protected areas to smell like that. Among all CPC project problems is that they are not providing any devices to catch the hydrocarbons, to put it plain - the evaporating substances that are causing this odor choking you up. If our coast will smell like that, we all get illnesses that are presently cured here by the seawater and juniper air."
This is what Iam thinking about when I am trying to portrait magnificent trees in the grove. "This pistachio tree is 600 years old" - I hear Yermolayev explaining into the camera. "This one with the fruit on it is younger. You can also see that here most of the junipers are more or less healthy, but if you move to the Abrausski zakaznik, you will see the stand of the ancient, but dead and already dry junipers."
Probably I have a strong imagination, but a thought of this place as a stand of juniper sceletons and smelling of hydrogcarbons makes me shiver.
On our move to Abrausski zakaznik we pass different billboards calling citizens to value and to protect forests. One of them said - "Forest is your friend - take care of it", the other stated that "Forest is the cathedral of the nature". My friends give a gloomy laugh remembering juniper logs on bare and dusty land, devastated landscape and CPC slogan.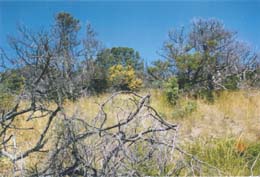 Even dead, the junipers on the steep mountain side look magnificent. Their bare silhouettes make us think of some bewitched forest. "They have stood here for hundreds of years, and may stand as much" - comments Yanis. "Fortunately, such "bewithced" groves are not many here. Of course the situation may change for worse, and we all know why..." We start feeling that CPC is a kind of an evil spirit haunting the area.
"Look at this old tectonic break" - Yanis points out towards sheer cliff. "Now you by your own eyes see what kind of processes are going here under the earth surface. Yeah, take a good picture of that so everybody can see it, if the seismic index 9 does not look impressive enough. By the way, seismic index of earthquake in Turkey was 8. Earthquake of such strenghth may occure here once in 10 years... But we also have in our region "seasonal" fall quakes starting in August with seismic index of approximately 2 - 4. You can see the traces - the bare unforested parts of the mountains - the earth has moved there".
We also got our fair share of this "seasonal quake" experience - waking up a couple of nights because of our small summerhouse vibrating. Afterwards people and newspapers told us "that's our fall quake".
"I am a gloomy optimist. If we fail in stopping the CPC project, the natural disaster will stop it," - Yanis says driving us throught the Abrau peninsula forests and famous grape groves. Here, in the highlands, surrounded by ancient mediterranean type forests, in the fresh sea air, the most famous grapes for the most famous wines of Abrau - Durso winery are grown. The champaigns, red and white sparkling wines of Abrau - Durso are highly appreciated and won many international awards. People here have grown grapes and made wine for centuries, living in peace with their natural environment. In the whole area we have visited I have not seen mountains damaged by cattle grazing, like it is in Crimea (Ukraine) or in some parts of Bulgaria. Only near Novorossiisk city the mountains are stripped by mergel extraction.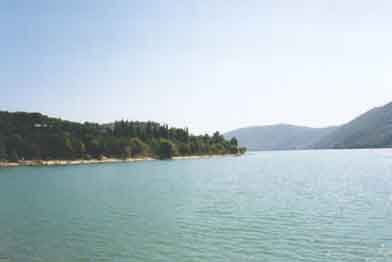 We stop by Abrau lake with its water of unusual greenish turqoise color. People are swimming and sailing. We are taking a couple of shots while Yanis tells us the story of Abrau - Durso champaigns. "Two Russian noblemen stole champaigne secret from the French. They did the dirtiest job in the French winery pretending that they are poor immigrants not understanding much French. Gradually they learned the recepie and the process details", concludes Yanis his industrial espionage story.
The last of site of this day is an officially protected nature monument - "Lymanchik" -a unique small freshwater lake separated from the sea by thin, naturally developed damb. Once it was a small sea bay, but in time the sand, rocks and soil developed this damb and former bay gradually became a freshwater lake. It is shallow and clear enough to see the weeds and the animals on the bottom. Big grass-snake throws its self into the water, numerous frogs and toads haste away as I am making my way through two-three humah heights high reed surrounding the lake.
While taking pictures I figure out that all these nature wonders are located on the small piece of land - along the 14 kilometers long coastline. Many of its parts have preserved undisturbed by the humans - just like it was thousands of years before humans came to the place. The Utrish reserve is 18 km away from Anapa, and Abrausski reserve starts 8 km away from Novorossiisk. Right where the pipe will come out on the shore and into the sea.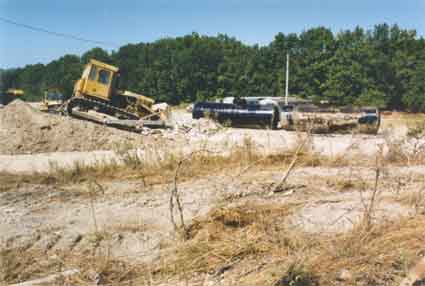 We have been there on our first day trip, when we were filming the CPC construction sites. Stripped land whacked by heavy construction vehicles, yellow dust, stinking puddle in the future bed of the pipe - and the clearest water down near the shore. This is a continuation of the Shirokaya Balka beach - a resort area near Novorossiisk. Natural stone plates are leading right into the sea forming a kind of natural bath. People like swimming and sunbathing there. We saw a couple of people passing by. Few days later CPC employees closed the area and would not let anyone walk by the shore.I also remembered the small piece of grpe grove that was not torn off by the construction works on the border of the site. Black grape bunches covered with yellow dust and a heavy construction vehicle near looked very symbolic.
WHO CARES
Next morning during the coffee we read the local newspapers. We learn that Novorossiisk city and nearby resorts this year experienced a tourist boom and that it is expected to gain more profits next year. We could see these expectations in Shirokaya Balka - new hotels, cafes and restourants were built, and the old, Soviet times ones - renewed. We talked to the hostess of one of the cafes. "CPC will kill all our business, we know that. But the authorities have received bribes and we really don't know what to do", she says. Having learned that there are people working to organize referendum, she is eager to collect signature in support of it.
Further reading discivers an interview with Mauricio Croche, CPC floating terminal general manager from Chevron. He does not even deny the dangers of the project or the possible breakdowns. (in the project there is a claim that all is 100% safe). Being asked about how CPC is going to clean up beaches he jokes that probably the stones near Novorossisk and Gelendgic would be scrubbed by some enthusiasts, while CPC would give food and clothing. Then he said that there is a special clean up program for the beach clean up.
First of all, I do not like this kind of humor. Second - who needs beaches if water is polluted. Noone denies that it will be.
We have couple of things to talk about with the CPC CEO in Novorossiisk Dolgov. First of them is our illegal arrest.
Dolgov was not too friendly. First he did not want let us in at all. Finally he decides to talk, but with no camera or recorder. Only one journalist, says he. But then Ana and Victoria manage to get in with Yanis assistance. I am staying in the car. In half an hour my collegues walk out of the office, obviuosly impressed.
The essence of the conversation was the following. First - our arrest was all securities fault. Second, he did not care what journalists write or people say.
Investigating the case, we came to the same conclusion - they in CPC don't care what local people - the true owners of this land, those, who truly depend on it - think. Neither the do care about interests of people who come here to for cure and rest. Such notion as environmental interests and rights does not exist to them at all. But the way it was admitted so eagerly and openly stroke us. In the west, companies - CPC shareholders - through their PR at least pretend that they care. Chevron, which is the true project leader, claim that the company cares about the habitats and protected areas. Or is this PR just for civilized west, while in "wild" and "uncivilized" Russia anything goes? Just because the corrupted officials are selling off peoples and nature interests?
This is what we've been thinking about heading to the airport. Forested mountains, grape groves and villages were again passing by the window... We remember Yanis saying "Money can't be a global philosophy. The evolution to happiness is not connected to money". We hope that our freinds will win this fight against big money. Win for the interest of us all, because this unique place where water and the air are so clear and curing and nature is so generous belong to all of us - and to our children.
Many thanks to
Yanis Karakezidi, Yuzhnaya Ozereika leader, great artist, our guide, guard and driver at the expedition
Stanislav Yermolayev, schief environmental officer of Anapa, our guide and expert
Ana Kochineva and Victoria Kolesnikova, my colleagues in SEU Press-service, with whom we share all our work, dangers and fun and wrote this article.