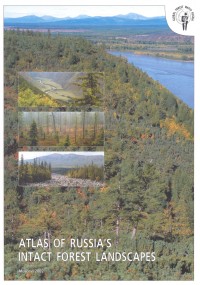 Atlas of Russia's Intact Forest Landscapes
Table of Contents
Text Section
Preface
Introduction, Purpose, Definition and Criteria
Method for Deliniation of Intact Forest Landscapes, Accuracy
Preliminary Identification of Large Intact Forest-dominated Areas and classification of their tree species composition
Results and Conclusion, Next steps
References
List of Reviewers
Annex 1. Data on Intact Forest Landscapes at the Level of Administrative Region
Annex 2. Data on Forest Area at the Level of Administrative Regions

Maps
Intact Forest Landscapes
Tree Species Composition (according to the Forests of the USSR Map, 1990)
Closed Forest Tree Species Composition (apparent areas in Siberia and the Russian Far East)
<!a href=m4.html>Map of Administrative Regions of Russia
Index of Administrative Regions of Russia
Key to Map of Administrative Regions of Russia
<!a href=9.html>Partisipating Organizations
---
Atlas of Russia's Intact Forest Landscapes. - Moscow, 2002
Dmitry Aksenov, Dmitry Dobrynin, Maxim Dubinin, Alexey Egorov, Alexander Isaev, Mikhail Karpachevskiy, Lars Laestadius, Petr Potapov, Andrey Purekhovskiy, Svetlana Turubanova and Alexey Yaroshenko
Contributing authors:
Yekaterina Belozerova, Tatiana Braslavskaya, Alexander Dobrynin, Sergey Dylyuk, Yelena Esipova, Olga Gershenzon, Igor Karyakin, Yelena Kirichok, Ruslan Kiselev, Alexander Kitov, Konstantin Kobyakov, Evgeny Kozin, Evgeny Krasilnikov, Sergey Krasnopeev, Yekaterina Kuznetsova, Andrey Laletin, Nikolay Lashchinsky Jr., Anatoliy Lebedev, Anton Makarov, Valentina Neshataeva, Dmitry Pamfilov, Alexey Pazhenkov, Fedor Pleshikov, Vsevolod Rozenberg , Bella Russo, Natalia Rybakova, Anatoly Sapozhnikov, Vladimir Skvortsov, Olga Smirnova, Anton Sonyushkin, Nikolay Shchenin, Vladimir Yaborov, Dmitry Vatrasov, Konstantin Yakovlev, Tatyana Yanitskaya, Alexander Yumakaev
The following people contributed to the preparation of materials for this book
Organization of field verification and ground data processing and contributing information for thematic interpretation of the degree of disturbance of particular areas:
Tatiana Braslavskaya (Moscow), Alexander Dobrynin (Vladivostok), Igor Karyakin (Perm), Alexander Kitov (Irkutsk), Konstantin Kobyakov (Apatity, Murmansk Oblast), Evgeny Kozin (Vladivostok), Sergey Krasnopeev (Vladivostok), Nikolay Lashchinsky Jr. (Novosibirsk), Valentina Neshataeva (Saint Petersburg), Alexey Pazhenkov (Samara), Fedor Pleshikov (Krasnoyarsk), Vsevolod Rozenberg (Vladivostok), Anatoly Sapozhnikov (Vladivostok), Vladimir Skvortsov (Moscow), Olga Smirnova (Moscow), Konstantin Yakovlev (Krasnoyarsk), Vladimir Yaborov (Blagoveshchensk), Alexander Yumakaev (Barnaul).
Selection of satellite imagery, geo-referencing and processing:
Olga Gershenzon, Yekaterina Belozerova, Evgeny Krasilnikov, Yekaterina Kuznetsova, Anton Sonyushkin, Dmitry Pamfilov (Moscow).
Regional coordination of field verification and ground data collection:
Andrey Laletin (Krasnoyarsk), Anatoliy Lebedev (Vladivostok), Alexander Yumakaev (Barnaul).
Development of software for the ground data database; data entry:
Sergey Dylyuk, Nikolay Shchenin (Moscow).
Preparation of topographic and thematic maps:
Yelena Esipova, Yelena Kirichok, Ruslan Kiselev, Bella Russo, Natalia Rybakova, Dmitry Vatrasov (Moscow).
Borders of federally protected areas:
Ruslan Kiselev, Tatyana Yanitskaya (Moscow).
Reception, selection, primary processing and geo-referencing of satellite images from the scanners MSU-E and MSU-SK of the Russian satellite Resurs-O1 series was performed by the R&D Center ScanEx. On the basis of these images, ScanEx identified vegetation communities associated with large blocks of intact closed forest.
Map design and general layout by Dmitry Aksenov, Ilya Belov.
The English text was scrutinized by Eric Glick.
Main front cover photo: northern forest landscape, Magadan Oblast by Vadim Kantor.
Front cover inset photos (from the top): mountain forest landscape in Northern Ural Mountains, Sverdlovsk Oblast by Alexey Pazhenkov; bogged forest in Karelia by Alexey Morozov; Sangpa River valley, Republic of Altay by P. Kartveli.
Back cover photo: larch tree in Sayany Mountains, Republic of Tuva by Andrey Purekhovskiy.
The work on identification of Russia's intact forest landscapes was supported, in its entirety or in part, by the home furnishing company IKEA, the World Resources Institute, the Swedish International Development and Cooperation Agency (SIDA), the John D. and Catherine T. MacArthur Foundation, and the Turner Foundation.
The work benefited from software donated by Environmental Systems Research Institute Inc. and ERDAS Inc.