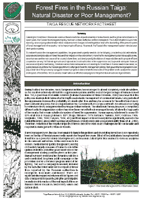 Forest Fires in the Russian Taiga: Natural Disaster or Poor Management?
TAIGA RESCUE NETWORK FACTSHEET
Written by Mikhail Karpachevskiy; Design by Janice Barry and Tom Lomax; Photos by Mikhail Karpachevskiy; Illustrations by G.E. Hofgaard
Summary
Catastrophic forest fires in Russia are a serious threat to both the unique biodiversity of boreal forests and the global carbon balance. In recent years, the Russian fire management policy has been unclear, ineffective and non-transparent. The current situation is even more alarming, since ongoing administrative reform and permanent changes in forest legislation lead to the dismantling of the present system of forest management in the country, not to improving its efficiency. As a result, the Russia's fire management system risks be soon destroyed completely.
To restore Russia's fire management capabilities, the government urgently needs to do the following: provide the public with reliable, accurate and complete data on forest fires and their impacts on the environment; move the fire management policy into a public arena, since humans are the main cause of the country's forest fires; and clearly specify the division of responsibilities and to provide efficient cooperation among the federal agencies and regional and local authorities in fire suppression and to provide adequate financial resources and personnel training. International and national awareness of catastrophic forest fires in Russia needs to be raised, as public pressure could force the Russian government to change its forest fire management policies. Non-governmental organizations can play a vital role in this process by using pilot research projects to demonstrate the real scale of the problem and to analyze the causes and impacts of forest fires. NGOs can also show how to run effective campaigns for fire prevention at local and regional levels.